We believe in pulling out every stop to ensure that you enjoy your wedding photography as well as getting quality photographs.
We'll visit you in your own home to discuss your plans, your likes and dislikes and to show you samples of our work. We'll then provide you with a quote that reflects the photography you want, whether it's size, style or price.
There's no charge for visits or quotes, nor is there any obligation on your part – and we promise there's no hard sell. We think it's important that the bride, groom and photographer get on well together.  That way, you're more relaxed – and we get better photographs!
Oh, and as we're both photographers, you get two for the price of one!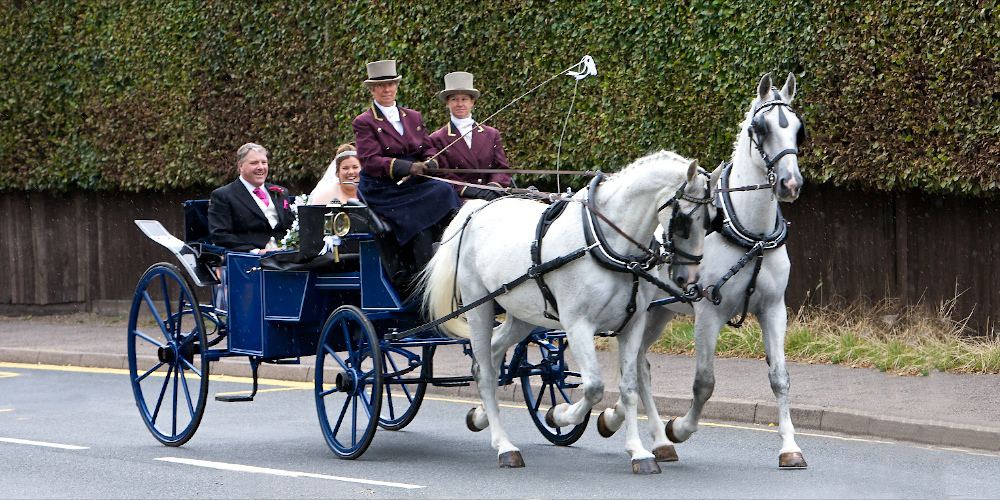 Wedding Photography Brochure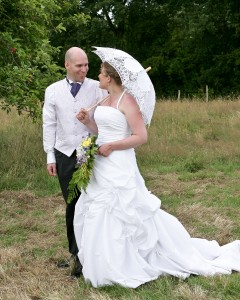 We will always discuss your preferences with you so that we can ensure that the style of your wedding photography will match the rest of your day.
If your preference is for formal groups with carefully posed photographs of the bride and groom, that's fine with us. If you prefer an informal, reportage style we can do that too. If you like fun, so do we.
In practice, most couples opt for a mix. The formal groups are good for family and friends, especially if relatives rarely get together; informal, candid, shots show that your guests are enjoying themselves and some fun shots are always good to add to the collection. But of course, we don't forget what a wedding is all about. A couple in love. Romantic photographs of the bride and groom are a 'must have' if the story of your day is going to be complete.
What to expect on your wedding day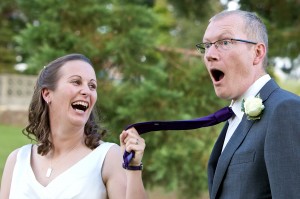 Whatever the time or weather, we'll be there!
In fact, sometimes earlier. if you are getting married in church it's normal to have a rehearsal. If your wedding is local to us we will be more than happy to attend the rehearsal too (there's no extra charge) provided our diary is free. As well as getting the chance to meet the wedding party, it gives us the opportunity to check the photography 'ground rules' with the vicar
If you've asked us to take photographs of you getting ready, we'll arrive at your home (or your Mum's, friend's, hotel etc) in plenty of time. We'll photograph the hairdressing, the makeup, the dress, the accessories. In fact everything that adds to your special day.
Unless you are getting married at the same location, we'll arrive at the church or Registry Office in time to photograph your husband-to-be and his Best Man. We'll photograph your guests arriving too.
Then bridesmaids arriving. Then of course you. Then you and your bridesmaids.
If the vicar/Registrar is happy for us to do so, we'll continue to take photographs during the ceremony. This will be followed by pictures of you both signing the Register.
Then it's time for the shots of you as a couple and the family groups (if that's what you'd like).
When we've completed these, we'll take you both off to somewhere quiet for the romantic photographs.
As you will have both of us taking photographs at your wedding, we will be taking quite a few informal photographs too while the formal photographs are being taken.
Soon it will be time for going into your wedding breakfast (reception). We'll take a few set up shots of you 'cutting' the cake and we'll already have covered photographs of the room and table decorations.
If you've asked us to do so, we'll take photographs during the speeches – guests' reactions as well as the speakers – and then the 'live' cake cutting.
We'll probably take a few additional pictures of you as a couple while the room is being prepared for the evening part of your reception and we'll certainly take some informal photographs of your guests.
Before you know it, your evening guests will be arriving, so we'll photograph them too!
Then it will be time for your first dance.
We'll continue to take informal photographs throughout the evening for as long as you have arranged, but we won't leave until we have first checked with you that we have taken all the photographs that you require.
Timing on your wedding day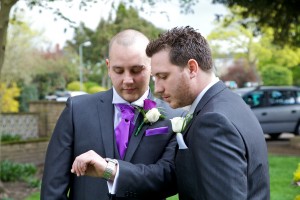 It's important that you allow sufficient time for everything that will happen on your wedding day. Your day will be a whirl of excitement and prior planning will help everything to go smoothly.
If in doubt, allow longer. Even a small delay can impact throughout the rest of your day and as the time of your meal is fixed, any time that needs to be made up will reduce the amount of time that is available for photographs.
It probably goes without saying, but the more people there are to have hair and makeup done, the longer it's likely to take and your hairdresser/makeup artist will be able to guide you on the time you need to get ready.
If you are having photographs of you getting ready, we will need to leave in time to get to the church or Registry Office to photograph the groom and best man – and to make sure they've gone inside before you arrive! As a rule of thumb we really need to be there at least half an hour before the ceremony is due to start.
Although it's traditional for the bride to be a couple of minutes late, if you cut it too fine, we won't have enough time to photograph you when you arrive! Please try to allow 10 minutes for us to take those photographs at the car.
A Roman Catholic church service can take up to an hour and a half, perhaps longer with Mass. Services at other churches are usually around 45 mins.
If the main photography is being carried out at the church it's useful to allow about an hour for this.
Don't forget to include travel time to your reception venue. If you are getting married on a Saturday, the traffic is likely to be heavy and if you are travelling some distance, do allow a margin for roadworks and other hold ups that may affect your journey time. Do allow time for your guests to arrive too – many of them might not be familiar with the route and they'll need to get to their car after the ceremony as well.
If you are having photography at the reception venue do allow sufficient time. We'd suggest half an hour, but we'll need ten minutes or so to set up some shots of you 'cutting' the cake before you and your guests sit down for your meal.
Formal 'line ups' where the wedding party greets every guest as they enter the reception room can add half an hour or so on to your timing.
Your meal is likely to take up to two hours.
The venue will need at least half an hour to clear away and re-arrange your room for the evening entertainment.
All these timings are intended as a guide only so do check with the venues and service providers. And please remember, all your guests will naturally want to congratulate you and this will eat into your time a lot, so build in as many cushions as you can!
Ten top tips for your wedding day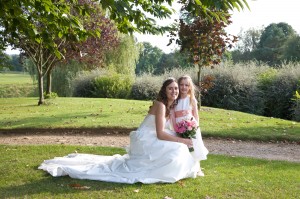 Here are some useful tips for helping your wedding day go smoothly:
1. Allow plenty of time. Make sure you allow for minor delays
2. Delegate. Don't try to control every detail yourself, appoint your chief bridesmaid and best man to be your representatives on the day and allocate jobs to specific people well in advance.
3. Don't get too close to the car wheels in your wedding dress – even the cleanest car will have some dust on the tyres.
4. Be cool. Don't get worked up over minor irritations. If anything goes wrong it can usually be fixed. If you can't do anything about it, worrying won't help.
5. Make sure your wedding car is practical. A sports car or vintage car may look and sound great, but can you actually get into it when you're wearing your wedding dress, particularly if it has hoops!
6. Think of your bridesmaids. They'll probably travel to the church or Registry Office in the wedding car, but how will they be getting to the reception?
7. Eat. It's important to keep your energy levels up. Have a light snack before your wedding and ask your chief bridesmaid to carry some biscuits in case you need a top up during the afternoon.
8. Drink. Make sure you keep your fluid levels up, particularly during hot weather. Do avoid too much alcohol though, you'll want to remember your day!
9. No alcohol before the wedding please chaps – it will make your face look red in the photographs!
10. Be merry. This is the most important day of your life. Enjoy it.
Presenting your photographs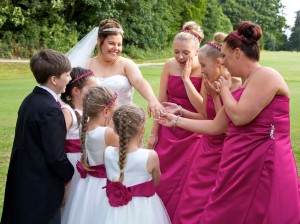 Traditional or digital; whatever your preference, we can provide your photographs to match.
If your taste is for the traditional, we offer luxury hand-made traditional albums complete with your chosen selection of photographic prints professionally mounted inside.
If you prefer a more modern, printed album – often known as 'coffee table' or 'magazine' style we supply top of the range Graphi Studio albums. The world really is your oyster when it comes to the layout and design of your album. If you have a particular style in mind, we'll match it. But we'll also be just as happy to help you create your album just as you would like it. When you are totally happy with the design, we'll transfer it electronically to the Graphi Studio in Italy where it will be expertly printed and bound. After a thorough quality check at the studio, it will be lovingly packed and sent to us by air courier. We'll check it again ourselves and then we'll phone you to arrange a convenient time for us to deliver it to you in person.
For those who prefer a digital option we can provide high resolution images on a DVD. The photographs will be edited to avoid duplication and the quality will be identical to that used for front cover images in magazines. You will be able to print the images, send them to friends or place them onto social media – or simply enjoy them yourselves.
Finally, what better way to present your images than as a 'jewelled' heart? New for 2014, we can now offer as a sparkling alternative to a DVD, a heart-shaped USB memory stick. Luxuriously packaged in a velvet purse, this will certainly make your heart sparkle too.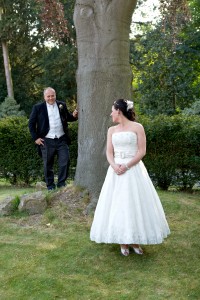 Naturally, you'll want to see some samples of our work before booking us. We'll be pleased to visit you in the comfort of your own home to show you some 'real' examples of our work. Of course, if you prefer, you are welcome to come to us instead.
We will show you a selection of styles of photographs that we have taken together with some really large prints so that you can judge the quality for yourselves. We'll also show you samples of the stunning Graphi printed albums and our new alternative to a DVD, the 'jewelled' heart-shaped memory stick.
If you have any preferred styles that you particularly like we'll discuss these and answer any questions that you might have. If we haven't already provided you with a firm quote, we'll check on the details of your wedding so that we can prepare one for you.
How much photography do I need?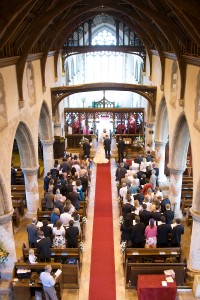 You can choose as much or as little photography as you like.
We're no strangers to early morning starts and we can be with you as early as you wish. Much will depend on the time you are getting married though. As you will have two photographers, we will usually incorporate a good mix of informal photographs and, if you wish, formal ones too. We'll be in touch about a week before your wedding to check whether there are any special groups or individuals that you would like us to photograph. Whether you choose all day photography or just a couple of hours, we'll always check with you before we leave that there are no more shots that you would like.
It's probably easiest to break the photography down into sections.
The first section is the bridal preparations, which usually include hairdressing, makeup and a myriad of other things. While most brides are happy with the photographers being there to record it all happening, a large minority choose to start the photography at the church or Registry Office.
It's quite normal to be nervous on your wedding day and some brides feel more comfortable without their photographer being there for the preparations. It can sometimes be a bit cramped if the house is small and there are a lot of people getting ready at the same time. but photographing you preparing for your wedding adds to the story of your day, although of course it adds to the cost too! So, you will need to consider carefully whether you want to include this as part of your day's photography.
The second section is photography at the church, Registry Office or other venue for your wedding ceremony. This usually starts with photographs of the groom, the best man and other male supporters. We like to inject a bit of humour into this and this helps to relax the groom too. Naturally, we complete this part of the photography before the bride arrives.
Next is the arrival of the bridesmaids and then the bride. We'll take a selection of photographs at this point but as time is usually tight and the ceremony is about to start, this will be very quick.
Photography during the ceremony is something that is down to personal choice and in accordance with the wishes of the Registrar or the vicar. This is the main part of your day though and including photographs of it will make your story complete. Getting married in church does by its very nature include a religious service and some clergymen (and clergywomen) will ban photographs for that reason. Most will agree to at least some photography though, even if it is limited to shots from the back of the church. Registrars are usually quite relaxed about photography during the ceremony. All photography that we carry out during the ceremony is discreet and we do not use flash equipment during the actual ceremony.
Signing the Register is a traditional part of wedding day photography. With very few exceptions, the vicar or Registrar will not allow photographs of the 'live' signing. Instead, we will set up a posed 'signing' shot immediately after the 'live' signing. The church or Registrar will often replace the official Register with a copy, or at least turn the Register to a blank page. As well as photographs of you as a couple, we can if you'd like us to do so, include the witnesses, bridesmaids and parents in some shots too. Assuming of course that there is sufficient room – some Registers are signed in extremely small vestries!
Formal photography usually takes place immediately after the ceremony and includes the first 'official' photographs of you as a couple. If you would like us to do so, we will gradually add the wedding party and main guests to build up to a full group of all your guests. If you are having confetti, we'll build this around the full group. Sometimes – perhaps if you are getting married in a church where there is limited space or where the reception venue is particularly picturesque – the photography at the church or Registry Office will be limited to a few pictures of the bride and groom and possibly the wedding party, with the main photography taking place at the reception venue.
The third section is at the reception venue. Unless you have chosen to have your formal photography in this setting, the photography here is mostly informal in nature – although we will want to take some romantic photographs of you as a couple! Shortly before you are due to start your meal, we will set up some shots of you 'cutting' the wedding cake. If we haven't done so already at this point, we will also take some detail shots of tables and decorations in the room. If you wish, we can include shots of your guests seated at the tables just before the meal commences.
The fourth section is the speeches and 'live' cake cutting. We will include guests' reactions to the speeches as well as the speakers themselves, so do try to make those speeches amusing! If the 'live' cake cutting is to take place during or immediately after the meal we'll include this too.
The fifth and last section is the evening reception. Photography here will be informal in nature and will include your 'first dance'.
Your choice is not restricted to any of this, but we hope it will help you to decide how much photography you would like and how this fits in with your budget.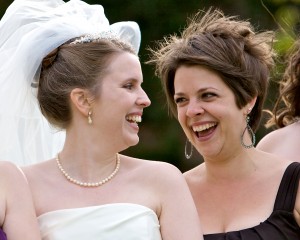 You can trust us with your photography.
"Ah," you say, "but how do we know?  Well, to start with we have been established for a long time, so we have a good track record.  Working as a husband and wife team we will always provide you with a personal service, whether it's answering any questions you might have or taking the actual photographs.
The price we quote will be fixed and will be inclusive.  There will never be any hidden extras or nasty surprises!  We do not sub contract any of our photography either – we will always carry out your photography personally.
All our printing is carried out by specialists, whether it is a single photograph or a luxury Graphi album.
We are always well-prepared – Our equipment is well-maintained and we always carry back up equipment just in case.
Of course we all hope that the weather on your wedding day will be fine, but we always carry portable studio lights in the car in case we need to carry out the photography indoors.  We carry white umbrellas for you and your bridesmaids too.
Finally, we hold professional indemnity insurance and £2m of public liability insurance.
Choosing A Date For Your Wedding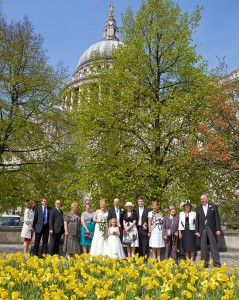 The first question that you are likely to be asked when you announce your engagement is: " When are you getting married?"
You probably haven't decided yet. You will obviously need to set a date at some point, but how do you choose what will be the the most important date in your life?
Cost is probably the driving factor for most couples. Can you afford to get married straight away, or do you need time to save up?
Birthdays and an anniversary of your first date together are good places to start, but are there any dates that you won't be able to make through other commitments – for instance, the football or cricket fixture list?
Once you've eliminated the dates that you can't make, you can think about availability of family and friends, particularly those who will be in the main wedding party, such as Best Man and bridesmaids.
But what about the weather? The English weather is famous for its unpredictability. We know that winter will be reasonably cold and summer is usually reasonably warm, but spring and autumn can be either – or both! The truth is that you can never really bank on the weather, so it's perhaps best to choose your preferred season and make sure you're well prepared for whatever weather comes your way.
If you are getting married in church or at a Registry Office you'll need to find out which dates are available. If you prefer an alternative single venue for your wedding ceremony and reception you'll probably need to be thinking well ahead as some of the popular ones get booked a couple of years or more in advance.
Unless you are choosing a single venue, you'll need to consider a suitable location for your wedding reception and check availability there as well.
If you're looking to keep costs down, consider opting for a weekday wedding. Because most weddings are traditionally held on a Saturday, wedding service providers will sometimes offer special low rates for weekday weddings – and there's probably a better chance of getting your preferred venues too.
Booking Your Wedding Photography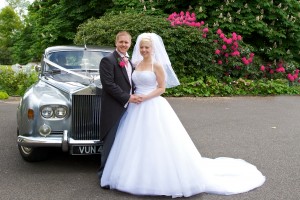 Booking your wedding photography is easy.
Once we have provided a quote to you and you are happy with it, we will ask for an initial payment of £100 to secure the date (this is part of the price quoted to you and NOT an extra).
We will then send you confirmation of the booking which will set out everything that is included as well as the price that we have agreed. We'll ask you to sign and return a copy to us to confirm that we've got it right.
That's it. It really is that easy. Naturally we'll keep in touch with you and we'll check the final details with you about a week before your wedding in case you'd like to make any last minute changes.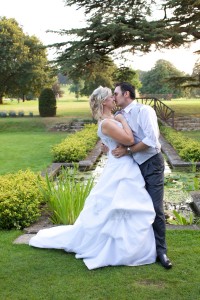 We'll be delighted to provide you with a tailor-made wedding photography quote.
Our first contact is likely to be by telephone or via the internet. The internet is fine for providing you with information and answering any questions you might have, such as confirming that we are free on the day of your wedding, but as we tailor every wedding to the couple's individual requirements, it's always helpful to have a chat by telephone.
We'll need to know where you will be getting married and where your reception will be held. We'll also ask the time of the ceremony and it would be useful to know approximately how many guests there will be.
We can provide coverage throughout the day, from you getting ready early in the morning until your guests leave your evening reception bleary-eyed but happy in the early hours of the following day, so we'll need to know approximately the length of time that we will be taking photographs.
We'll also need to know how you would like to receive your photographs. We offer a range of both traditional and 'coffee table' or 'magazine style' printed albums or, if you prefer your photographs digitally, we can provide them on a DVD or a magnificent 'jewelled heart' memory stick.
Once we know what you would like, we will provide you with a quote that matches your exact requirements.
We pride ourselves on being flexible and adaptable and we'll always be pleased to discuss ways of tailoring your wedding photography to meet your budget. You might be pleasantly surprised!